Posted on 22 August, 2011
I visited the worlds largest (?) gaming fair gamescom in Cologne/Germany. Here are my impressions:
Big, Loud and Hollow
As usual the big names of the industry gather to woo for the attention of the masses. This is not new. However it was new to me how little things changed compared to last year. Sony, Nintendo and Microsoft had still huge booths (there was even a "dedicated waggle hall" as I call it where the younger did all sorts of stupid moves in front of the Wii, Playstation Move and Kinect). There were also the looters slendering about with huge bags where they could store all sorts of swag gathered from various booths. I managed to stay clear of those and not run around like a human advertising board although I had to refuse swag from some pretty hot booth babes.
One of the more crazy booths was the one for Battlefield 3 . They managed to squeeze a jet fighter into the hall
Sony with Uncharted 3 did even build a desert pavilion outside the main hall that featured real camels! Those crazy marketing folks…
The flops
I had made a small list of games beforehand that I look forward to and wanted to check out at gamescom. Firefall was rather disappointing. Overly colorful, overloaded with interface elements and events and overall not very interesting. The weapons were clumsy and the "jetpack" more like an addon for prolonged jumping.
The Secret World had a great trailer and knowing that it is made by Ragnar Tornquist (who created the insanely great "The Longest Journey" series) I expected a lot. Sadly this is just another MMO where you round around pointlessly accompanied by a story that tries to incorporate real world myths. It was not much the forced story that disappointed me, but rather the clumsy animations and the bleak graphics. Also the inclusion of zombies tells me that they were desperated to add something that could appeal to the masses (who doesen't like zombies – bah…).
The last one was Skyrim. Yes right - The Elder Scrolls: Skyrim! And not because the game won't be great (it will and I will have to manage to suspend my private life for a week or two when it comes out). But the fact that they let the people pile up in front of their booth for hours only to show a really old video and sell it as brand new and exclussive preview – did bug me. I would have bugged me even more if I wasn't lucky to only wait for 1 minute before I could get to see the 'brand new' demo.
The Tops
I did catch an extremely short glimpse of Tribes: Ascend from Hi-Rez. And although those suckers didn't have the time to show me the game (If you don't have a press badge, you are a second class citizen – even on the trade visitor day at gamescom) – I still expect this game to excell.
A game that took me completely by surprise was Rayman Origins. It is a solid platformer with a hilarious art & style. Together with local co-op it has just the right mix of features and pretty to tickle my fancy.
The trailer alone is h.i.l.a.r.i.o.u.s.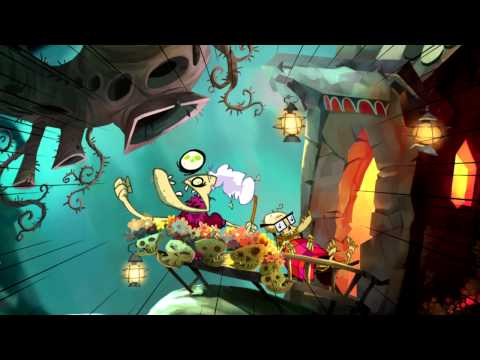 You will notice that I picked a number of random games out of nowhere to pick on. However there are many other games that I look forward to and can't wait until they are released:
Torchlight 2
Trine 2
Insanely Twisted Shadow Planet (PC)
Journey
Hawken
If only free time were on sale on Steam once in a while…